Welcome to Luma.
INSTRUCTIONS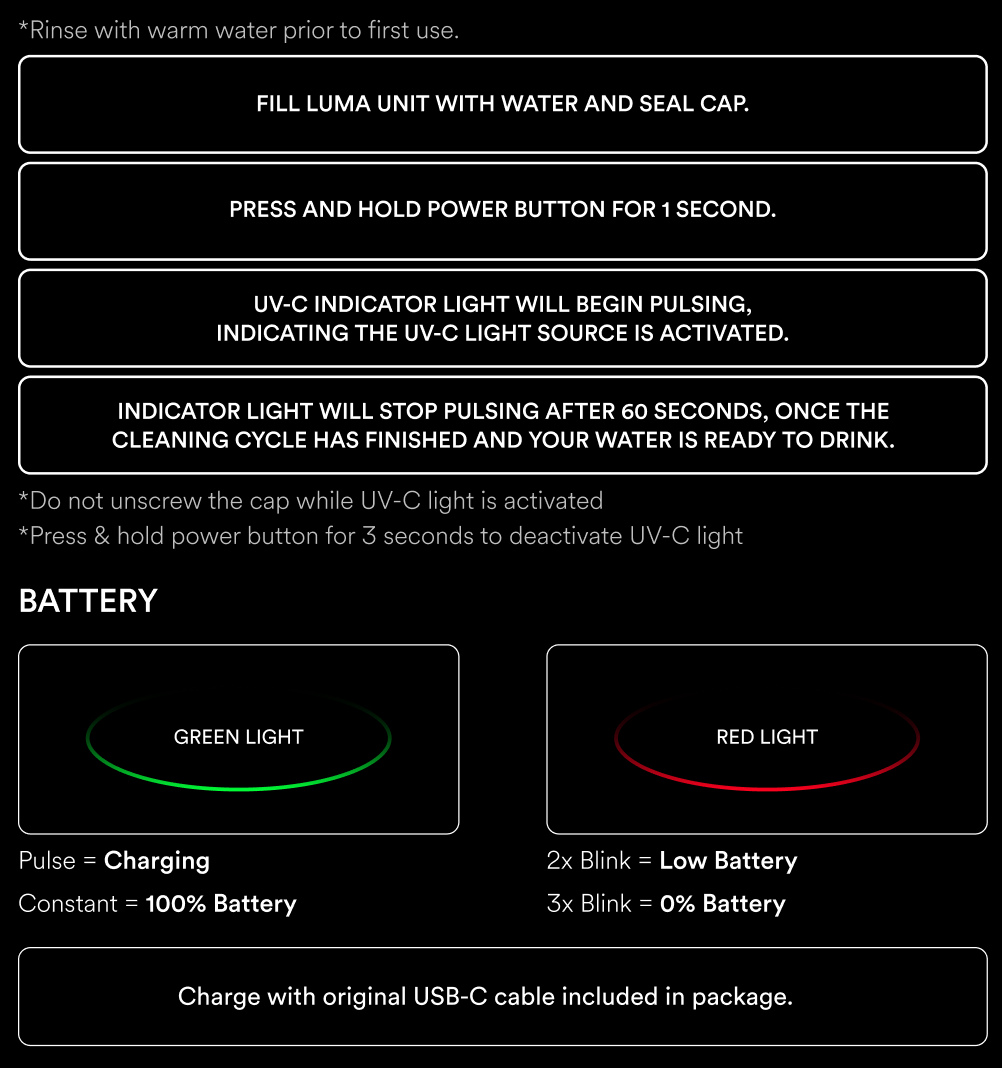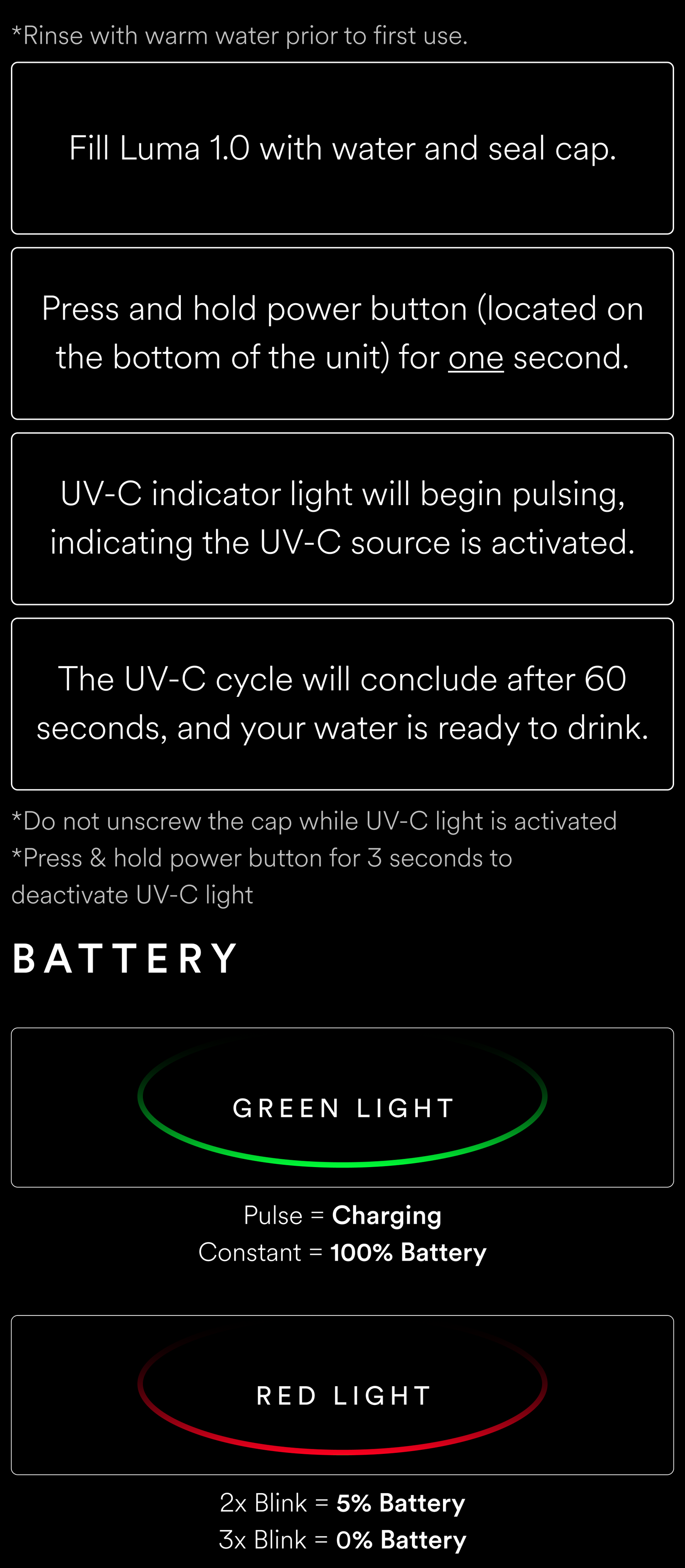 LUMA 1.0
FAQ's
Regular use of UV-C light prevents the presence of bacteria buildup and mold growth.
We do recommend hand washing the mouth-piece as needed due to the cap blocking UV-C exposure to that area.
Battery life depends on how often the UV-C light is activated. For most users, a single charge will last for 1-2 months.
Yes, UV-C light for water purification is medically accepted and poses no health risks. Users should avoid looking inside the unit when activated to avoid potential eye iritation.
Under normal use, units are expected to last 3-5 years. All units are subject to a 36 month warranty covering defects or malfunctions.
In order for UV-C light to be effective, it must be able to pass through its medium, meaning the liquid must be transparent. We recommend storing water only within the unit.
UV-C light is used to eradicate up to 99.99% of microorganisms, which includes bacteria, viruses, and pathogens. Non-bacterial substances will be unaffected by UV-C light.
If the unit's base becomes disassembled from the body, please follow reassembly instructions found here.
Yes, you can fly with Luma like any reusable water bottle.
Luma is water resistant and can withstand low-pressure water exposure. Be sure to keep the charging port plugged when not actively charging your unit.
UPGRADES
All Luma 1.0 users will be eligible for future product upgrades as we continue to innovate and release new models & product components.

There are currently no product upgrades available.
TERMS OF USE
By engaging in the use of the Luma 1.0 unit, you agree to be bound by the following terms and conditions, and acknowledge the understanding of all warnings and disclaimers listed below.
Luma Hydration, Inc assumes no responsibility or liability for any illness or sickness that may result from improper use of the Luma unit or from using this product for an unintended purpose, including any purpose other than the purification and/or odor elimination of the bottle and water only.
Stated longevity and microbiological performance of the Luma unit is conducted under standard laboratory conditions. Please visit our Science page for more information regarding the conditions and test results.
The effectiveness of the Luma unit may be limited by environmental or hygienic conditions.
Removal of, or tampering with the circuit board, battery, or UV-C light may result in injury or damage to the product, and will void all warranties.
The performance of the Luma unit is not guaranteed if the unit has been dropped, damaged, or otherwise submitted to conditions other than those endured under normal use.
This product contains ultraviolet light. Do NOT make visual or physical contact with the UV-C light, as it may result in irritation or damage to the skin or eyes.
Water that is placed in the Luma unit must NOT contain any dirt, rocks, moss, or other noticeable particulates as they may decrease efficacy of UV-C light sanitation.
Solids within the water will NOT be filtered and will prevent the UV-C light from effectively eradicating bacteria present in the unit's water contents. Water sources may contain different levels of bacteria with varying capacities of microorganisms; some being visible and too sizeable to be properly treated by UV-C light.
Do NOT fill the Luma unit with water that may be contaminated by chemicals, toxins, or brackish water.
When using the Luma unit for the purpose of water purification, use at your own risk.
Carefully insert solid objects into the Luma unit to avoid distorting or damaging the UV-C light housing lens. Immediately stop using the unit if the UV-C light housing lens has been broken or damaged.
The Luma unit contains a rechargeable lithium-polymer battery. For users in the US or EU, do not dispose of the product with the battery still in tact. Do not dispose of the product or battery in fire. If uncertain about proper disposal of the Luma unit, please email contact@drinkluma.xyz.
NOT dishwasher safe.
NOT microwave safe.
Your use of the Luma unit implies that you accept and agree to these terms, conditions, disclaimers, and warnings.
Choosing a selection results in a full page refresh.
Opens in a new window.